Resorts World Sentosa will feature six world-class hotels offering a total of 1,840 rooms. Each hotel is designed with a different theme, catering to both leisure and business visitors.
Crockfords Tower is an all-suite hotel with magnificent views of Singapore's Southern waterfront. The casino is located beneath Crockfords Tower. Crockfords offers an experience of the true glamour of a casino resort.
Hard Rock Hotel is for the hip and young, and the young at heart. The site of conference facilities that include 22 meeting rooms, a 1,600-seat plenary hall and one of Asia's largest ballrooms with seating for 7,300 delegates theatre style.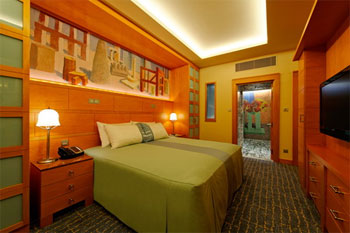 Boutique accommodation, Hotel Michael, pays tribute to Michael Graves and his team, the principal architect for Resorts World at Sentosa. Everything in Hotel Michael from crockery to linen, armchair to architecture, will be designed by Michael Graves and his team.
Located next to the posh Crockfords Tower and bustling Festive Walk, Festive Hotel is for those who want to be in the thick of the action.
Equarius Hotel, near the Equarius Water Park, is for nature lovers and families, it is set near the verdant lushness of one of the most pristine pieces of tropical forests in Singapore.
A collection of more than 30 luxurious rustic villas floating on a lagoon, guests at Beach Villas can see dolphins at play and catch the golden sunset.